Matching Flash Cards are included with each product, in addition to the Scripture Pictures and BookItLookIt designs. But also included are these awesome "Book" and "Before & After" Flashcards. You can print just the books for a complete set, or for a great way to learn the books "before & after" each book of the Bible, print double-sided. These are a great hit with my groups! Their competitive spirit really fires up to see who can guess correctly first!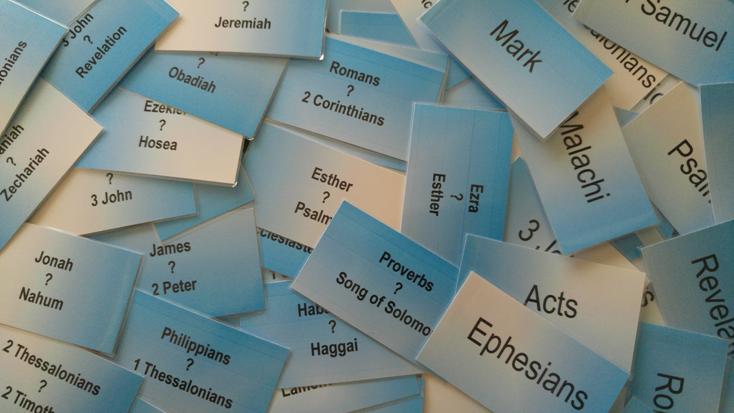 All Flash Cards can be printed in black ink on white or colored cardstock, or print bright colorful flash cards as pictured above!
Print pages double-sided on any Avery Business Cards that have 10 cards/sheet with card size 2" x 3.5" (such as Avery 8471) OR print on cardstock, trim edges, and cut in business card size OR take to a local print shop and have them print on cardstock and cut into business cards. If desired, laminate cards for long-term usage.
Traditionally, we have used BookItLookIts to introduce the verses and once the students are familiar with them by reviewing their BookItLookIts often with the verse/design/color, etc., then we use Flash Cards to finalize our memory work prior to the spring drills.
These "Book" and "Before & After" Flashcards can be used by anyone of any age to learn and review the Books of the Bible.
This same bonus set is included on every BookItLookIt product. Purchase your Download and start printing Flashcards today…
Ready to order? GO TO DOWNLOADS
Have Questions? See our Frequently Asked Questions or Contact Designer4Him@DesignerBibleDrill.com