What is a BookItLookIt? And Scripture Pictures? 
A book YOU create from file folders and colorful cardstock designs with Bible Drill verses!   Scripture Pictures are 8.5" x 11" colorful posters that match the BookItLookIt designs. Print extras to use with resources, cut line by line or each word, for quick and accurate prep of games and activities for unlimited possibilities!
Why BookItLookIt?
You Book It (make the book), then you Look It (look at it) to learn your Bible verses!  BookItLookIts can supplement your current Bible Drill memory program or add some games and practice drills to the BookItLookIt for a complete program.  No Bible Drill program?  Anyone can use a BookItLookIt to easily learn Scripture in a hands-on, fun, colorful, exciting way!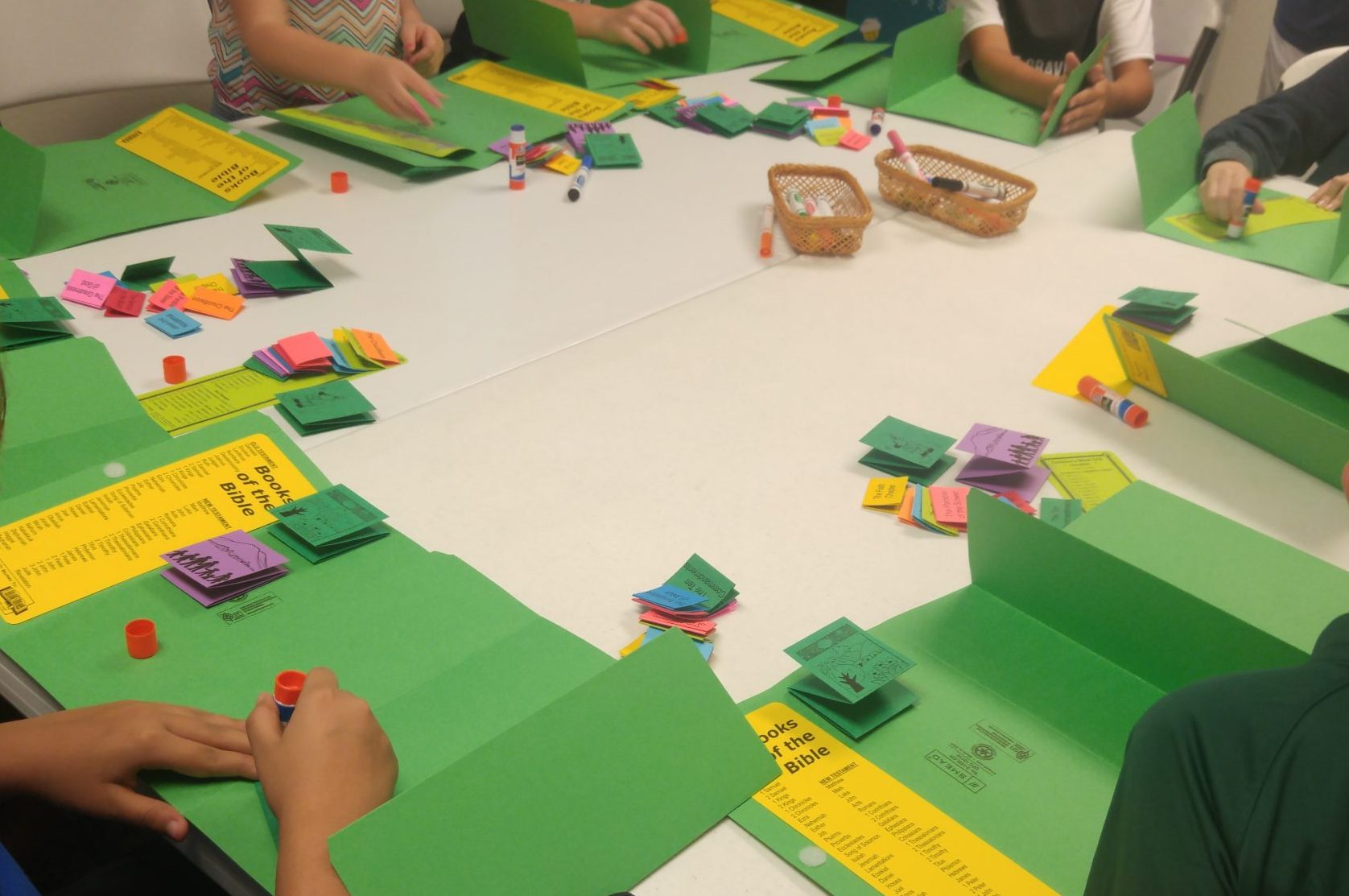 What Bible Versions are available?
CSB®      (Christian Standard Bible ©2017)
ESV®      (English Standard Version ©2001)
HCSB®   (Holman Christian Standard Bible ©2009)   Email to purchase HCSB
KJV          (King James Version)
NIV®       (New International Version ©2011)
"What am I buying?"
A Download that arrives by email within seconds after you place your order, that allows you to print the BookItLookIt pages, Scripture Pictures, and two types of Flash Cards for the Age Level/Version/Cycle you purchase, plus detailed Instruction Guide, Checklist, Books of Bible list, and Nametag Label Sheet. Ready to print however many you need for your program or family on whatever paper/cardstock you choose. You may also print a master copy and reproduce on a copier. Instruction Guide shows how to make BookItLookIts and other ideas.
View Samples of All Levels-Cycles
"What do all the Colors, Cycles and Ages mean? Please explain."
Sure! Products were originally designed to complement the Bible Drill programs in Southern Baptist churches which rotate on a three-year cycle of memory verses and passages (Red Cycle 1, Blue Cycle 2, Green Cycle 3), and divided into three age groups for drill competition:  Children 4th-6th grade, Youth 7th-9th grade, and High School 10th-12th grade. However, I also have used these materials with younger children and adults. Anyone that desires a fun, creative, colorful and unique way to practice memorizing Scripture will benefit!!!
Churches, homeschoolers, families, Christian schools and clubs, just to name a few, can easily use these undated materials to promote Scripture memory. Check out these detailed Reviews from Homeschoolers:  Reviews from The Old Schoolhouse Magazine Homeschool Reviewer-Families
Designed so students can practice verses on their own, BookItLookIts help: 
"Children" memorize 25 Bible verses and location of 10 Key Passages
"Youth" memorize 10 Bible Question/Answer Verses, 10 Identifying Verses and location of 10 Doctrinal Verses
"High School" memorize 10 Bible Question/Answer Verses, 6 Key Biblical Passages, plus 6 Steps to Salvation verses that present the gospel when shared in order (i.e. Roman Road)
Which Bible Verses and Passages are included in each Color Cycle?
View Samples of All Levels-Cycles. A complete list of all Bible references by age level for the Red Cycle is on page 32, Blue Cycle page 33, and Green Cycle page 34.  Text, and graphics when necessary, will vary with each Bible version.
"The Instruction Guide says that you prefer the "Smead's Straight Cut, 2-Ply Top Tab, Letter Size" Folders. Why?"
Durability and quality are important to me because the students will be handling them often. The Smead folders are a few dollars more than the office store brands but well worth the price difference in durability and color. Straight cut means they do not have the typical 3 tabs at the top, which I have used in the past, and which will still work. "2-ply" top tab means the straight tab is reinforced, compared to the folder that is only 1-ply thickness. I match the color to the cycle, and Smead offers a rich, vivid red, blue and green, that is the same inside and out (unlike the 2-tone folders which are lighter on the inside). You will need 2 folders per BookItLookIt.
"My state adds the Plan of Salvation verses to the regular cycle of verses. Can I still use the BookItLookIts?"
Absolutely! The Instruction Guide explains how to add an extended page to the BookItLookIt base. You can print the additional verses directly on the extended page (front/back) or print them on different colors/cards and glue to extended page. Add stickers, etc. to decorate or have students draw their own designs to personalize those verses.
"We've made our BookItLookIts—the kids are so excited! Are there other ways to use the Designs and Scripture Pictures?"
Yes! Unlimited Possibilities! Here's an easy one: make extra copies and cut the Design Verses into "cards" to practice matching the verse/passage sections and references or cut the Scripture Pictures into lines (or words for short verses) to put the lines in order, turn over and mix up, and do it again. You can also cut them in random puzzle shapes, or tape/glue the words or phrases to any item for hands-on learning and accurate, easy prep.
Here's a fun idea! Print the Books of the Bible list on sticker paper and add the books to dominoes, blocks, magnets, LEGO®, anything the students can put in order with their hands to practice the books of the Bible! Great for early arrivers too!
"I love all your colors, straight tab folders and ideas but my budget doesn't allow for this—where can I cut corners but still use the BookItLookIts?"
Great question! Without sacrificing the proven methods of how the BookItLookIts help students memorize, you can economize them. Find a multicolor package of folders with 3 tabs (regular manila file folder style) and at assembly time, match up the folders with the same tabs, then glue together. For cardstock, craft stores carry cardstock in colored packs, use colored paper (although not as sturdy as cardstock), or limit the number of colors you use—the handy chart in the Instruction Guide will help you organize your colors. Consider the cost to replace printer ink cartridges vs. printing one master set and copying. To economize on time, have a fun work session with other leaders, teens, whoever can cut out designs, fold/glue bases for BookItLookIts, cut laminated Scripture Pictures (if you laminate), etc.
"I've read the Instruction Guide and looked at the pictures, but I must be folding/closing the BookItLookIt base wrong. Help!"
The key is to start from the back or right side. Fold in the last flap. Fold the entire second section in over the first section. Fold the front left flap onto the top and attach to Velcro (optional). (The original folder creases will stay flat.) The finished size is the size of a folder or about 9" x 11.5".
For additional help, questions, or comments, do not hesitate to Email Designer4Him@DesignerBibleDrill.com
You may also request a phone call, if that would be more beneficial to you. I love to talk about Bible Drill!
Ready to get started?  GO TO DOWNLOADS